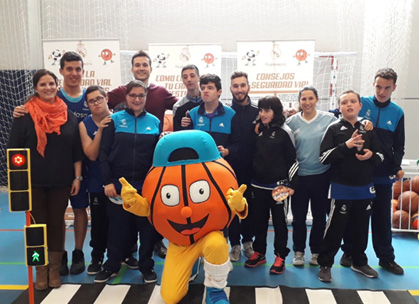 April 16, 2019
Celebrated the last session of the Fundación Real Madrid and Emotional Driving road safety program
---
The road safety education program developed by Fundación Real Madrid and Emotional Driving held last wednesday the last session of inclusive football.
A group of fifteen youngsters with intellectual disabilities of ages between 13 and 17 benefited from a session in which had the chance to reinforce the importance of road safety, reviewed the traffic signs, learnt how to help people in need and trained the value of Autonomy.
The program has taken place during the entire season at various adapted and inclusive schools. It aimed to introduce concepts that are complementary to sports and the education in values. Thus, thanks to Emotional Driving, this collective has had a more developed and adjusted education in values and road safety that will improve their autonomy and social integration.
Over 300 people with different disabilities have benefited from this program that have been supported and cheered by Valorcito and Valorgol, pets that have been in charge as well of transmitting values and raising awareness in the field of values and road safety.