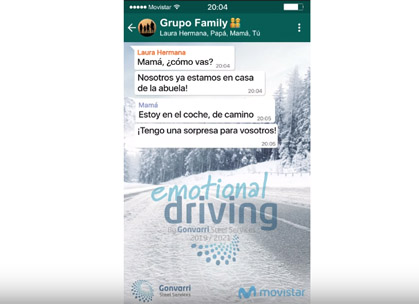 December 18, 2018
The best message, as the best driver, is the one that reaches its destination
---
On Christmas and during 2019, make responsible use of the mobile phone. Emotional Driving and Movistar don't want you to miss happy moments with your relatives and friends for a WhatsApp, a phone call or voice message while you are driving.
The best message, as the best driver, is the one that reaches its destination.
Mobile applications make our life easier, but they are the most common distraction at the wheel. One out of three accidents is caused by mobile devices. GSS is committed to road safety, it is for such purpose that it wants to strengthen Emotional Driving's message: to increase responsibility and reducing distractions at the wheel.