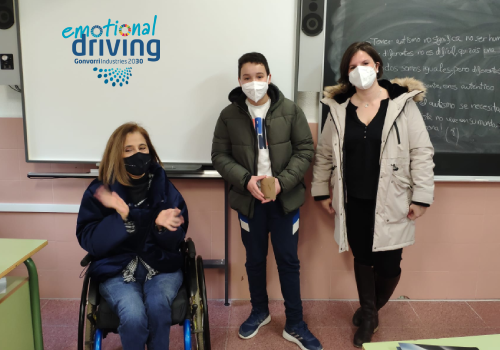 April 8, 2022
Emotional Driving and AESLEME hand the EDSchool Message Contest award
---
Omar El Mouden from Josefina Aldecoa Secondary School in Madrid has been the winner of the EDSchool Message Contest for the phrase "Leave your mobile! Everything can wait but your life".
This phrase, in tune with the emotional nature of Emotional Driving, motivates their families, friends and loved ones to drive responsibly and safely, as well as raising awareness in society that distractions at the wheel are a cause of accidents and should be avoided.
Mar Cogollos, director of AESLEME, and Marta Fernández, from Emotional Driving, visited the school to present a commemorative plaque recognising the school's involvement and commitment to road safety, a set of reflective waistcoats for the students in the class and a personalised gift for Omar.
Emotional Driving and AESLEME maintain an alliance of more than 7 years with the aim of motivating and raising awareness in society as a whole in favour of safer driving. Among its different lines of action, the "Te Puede Pasar" programme stands out, through which both entities visit schools and educational centres in the Community of Madrid to raise awareness among young people about a pending subject in national education: road safety.
Share the publication of this information on Emotional Driving's Instagram and LinkedIn profiles.