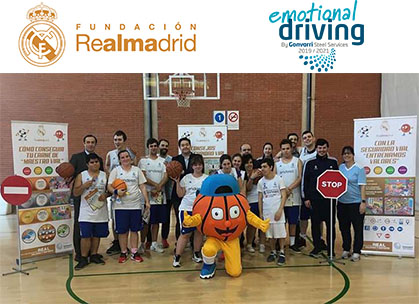 February 8, 2019
Josu Calvo attends a new session of the road safety program of Real Madrid Foundation and Emotional Driving
---
Last Tuesday, a new session of the road safety program for youngsters with intellectual disabilities, developed by Real Madrid Foundation and Emotional Driving, took place in Madrid, more specifically practicing basketball. Josu Calvo, Gonvarri CEO attended the session to know first-hand how this program works.
Julio González Ronco, general manager of Real Madrid Foundation, visited the Fernando Martín sports facilities to introduce the road safety program to our CEO. At the conclusion of the session, Josu awarded with Valorcito, one of the pets of the program, the most advanced and caring learner of the session.
Over 300 people with different disabilities will benefit from this program that will take place several sessions of adapted basketball and inclusive football in which the pupils will the chance to learn the traffic signals, how to cross properly a road or even be able to help other people in circumstances of need.
GSI and Real Madrid Foundation signed in 2018 the collaboration agreement to sensitize and educate on road safety values a very vulnerable collective: young people with intellectual disabilities.
Click here for more information.