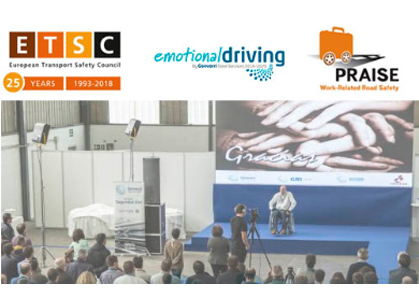 February 16, 2018
PRAISE publishes a case of study of Emotional Driving
---
European Transport Safety Council (ETSC), through its project named PRAISE (Preventing Road Accidents and Injuries for the Safety of Employees) has just published a case of study about Emotional Driving.
Titled Managing Road Risk at Work, PRAISE approaches the importance of raising awareness and sensitizing drivers on their "in itinere" journeys.
In the words of PRAISE, this case of study aims to "to promote best practice in order to help employers secure high road safety standards for their employees".
This case of study reviews all the initiatives and actions undertaken by Emotional Driving, highlighting the differential value of the program: the sensitizing and awareness based on positive and emotional messages.
ETSC is a Brussels-based independent non-profit making organisation dedicated to reducing the numbers of deaths and injuries in transport in Europe. ETSC provides an impartial source of expert advice on transport safety matters to the European Commission, the European Parliament, and Member States.
Thus, it is a great achievement by Emotional Driving to be covered by international organizations.
You can download the full case here.