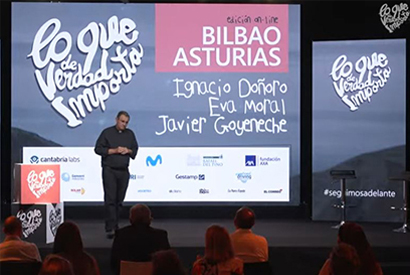 November 17, 2021
Bilbao and Asturias host the last WRM Congress in 2021 to over 2,000 streaming viewers
---
Bilbao and Asturias hosted on Monday, November 15, the last WRM Congress of 2021. The development of the Congress took place in streaming before more than 2,000 young people.
Emotional Driving had an outstanding participation with the projection of a new road safety awareness campaign.
Ignacio Doñoro: Spanish priest who has been fighting against various forms of violation of the rights of minors since 2002. He is the founder of Hogar Nazaret.
Eva Moral: after a bicycle accident 8 years ago, Eva knew she would never be able to move her legs again, but this has not prevented her from continuing to compete. She has just won the bronze medal in Tokyo 2021.
Javier Goyeneche: founder of FUN&BASICS and ECOALF, a fashion company pioneer in sustainability and innovation. Named "Social Entrepreneur 2020" by the Schwabb Foundation.