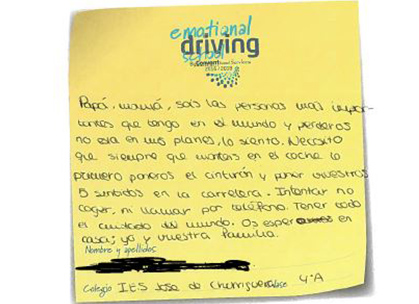 March 16, 2018
EDSchool, one year raising awareness and sensitizing youngsters at schools and educational centers of Madrid
---
Emotional Driving, with the collaboration of AESLEME (Prevention of Accidents that Cause Spinal Cord and Brain Injuries), has completed one year raising awareness and sensitizing thousands of youngsters from a positive and motivational perspective on road safety and responsibility at the wheel.
The first conference of EDSchool took place at Centro 1º de Mayo before youngsters of ages between 15 and 19 years old. Since then, members of AESLEME and Emotional Driving have visited hundreds of schools and educational centers of Madrid.
This initiative also includes a contest that requires children to write motivational messages to their parents so they can read them and realize that there are enough reasons to drive safe and responsibly.