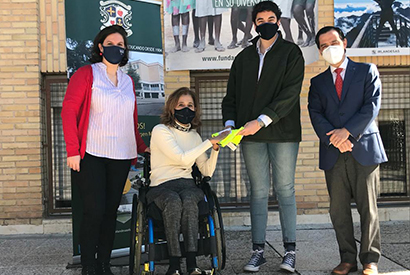 March 15, 2021
Emotional Driving and AESLEME hand the EDSchool Message Contest award
---
Javier García Blasco from Irlandesas El Soto School is the winner of the EDSchool Message Contest for the phrase "Dad, don't use your mobile phone while driving, because no matter how well you drive, something serious can happen to us. It can happen to everyone".
This phrase, in tune with the emotional and positive character of Emotional Driving, motivates his relatives, friends and loved ones to drive responsibly and safely.
Mar Cogollos, director of AESLEME, and Marta Fernández, from Emotional Driving, visited the school to deliver a commemorative plaque recognizing the school's involvement and commitment to road safety, a set of reflective vests for the students in the class and a personalized gift for Javier.
Emotional Driving and AESLEME maintain an alliance of more than 5 years with the aim of motivating and raising awareness in society as a whole in favor of safer driving. Among its different lines of action, the "Te Puede Pasar" program stands out, through which both entities visit schools and educational centers in the Community of Madrid to raise awareness among young people about a pending subject in national education: road safety.