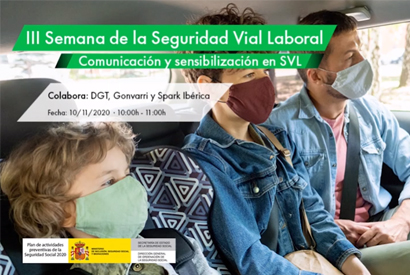 November 20, 2020
Emotional Driving present in the III Muprespa Fraternity Occupational Road Safety Meeting
---
Emotional Driving took recently part in the III Occupational Road Safety Conference entitled "Safety Saves Lives" organised by Fraternidad Muprespa.
Juan Llovet, corporate director of Communication and Sustainability, participated as a speaker in the online webinar entitled "Communication and awareness in Occupational Road Safety", explaining the Emotional Driving programme, contributing its differential value with respect to other road safety programmes and detailing the different audiences it is aimed at, reviewing the programme's route and its main achievements.
The aim of this conference was to define where we are going and the needs we must address in terms of road safety, to reflect on preventive contributions that are a reference point for responsible behaviour, and to share good practices that are being carried out to reduce road accidents.
Fraternidad-Muprespa is a Mutual Collaborator with Social Security authorised by the Ministry of Employment and Social Security.