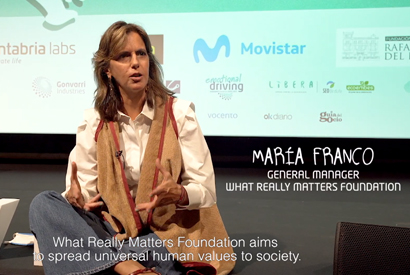 November 24, 2020
Emotional Driving presents its new web series "Partnerships", now available on the website and Stream
---
Emotional Driving presents its new series of "Partnerships" videos with the testimony of María Franco, general director of the What Really Matters Foundation.
María Franco reviews the collaboration between both organisations, the added and differential value that Emotional Driving brings to the What Really Matters Foundation's congresses, the different presentations and much more.
For the last 5 years, Emotional Driving and What Really Matters Foundation have been part of an alliance to raise awareness and motivate future drivers about the importance of responsible and safe driving.
The new series of Partnership videos was created to highlight SDG 17: Revitalize the global partnership for sustainable development. The journey that began in December 2014 and these 5-year record would not have been possible without the partners and organisations that have joined us. We share values, experiences, learnings with them and, above all, a firm commitment to road safety.
You can find this new section on the Emotional Driving website.
We advance you that next Friday 27th November the last WRM congress will take place in the Palacio de Congresos in Madrid. Emotional Driving, as it has done with previous congresses, will give you the opportunity to follow the Congress in streaming. Throughout the week we will give you more details.