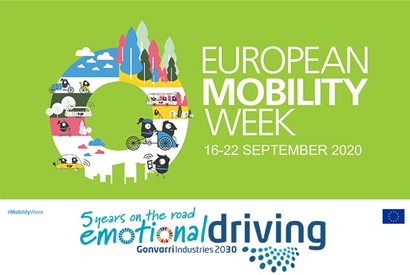 September 16, 2020
Emotional Driving supports the European Mobility Week 2020
---
The European Mobility Week campaign provides the perfect opportunity to present sustainable mobility alternatives to local residents and to explain the challenges that cities and towns are facing. By taking part, towns and cities can showcase the benefits of cleaner transport choices and make progress towards better mobility in Europe. The road safety program will take place between September 16-22 and the slogan for this year edition is "Zero-emission mobility for all".
Emotional Driving, as the result of her commitment to road safety and sustainability, joins forces with this program aiming to raise awareness among employees and the whole society on relevant values such as respect, safety and responsibility at the wheel.
Check the initiatives programmed in your country clicking here. We encourage you to take part in any of the wide variety of initiative that are going to take place in the entire geography.