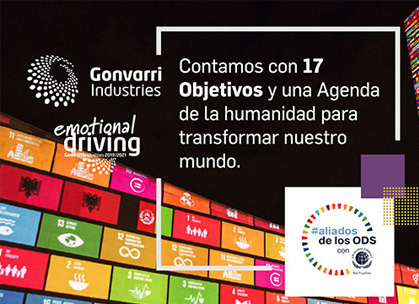 September 24, 2019
Gonvarri Industries and the Sustainability Development Goals (SDG)
---
The international community has established a new roadmap to follow for the next 15 years. At the end of September 2015, the heads of state and government of the member countries of the United Nations approved the 17 Sustainable Development Goals (SDGs), which are translated into 169 goals that cover social, environmental and economic aspects.
Sustainable Development Goals (ODS) identify the major challenges facing humanity and that will make the global agenda of the next century, among which are hunger, poverty, inequality, access to water, energy and climate change.
The implementation of the SDGs starts in 2016 and includes most of the goals for 2030, with some more urgent by 2020. Its scope extends to all countries, regardless of their level of development and each nation will be responsible for establishing your priorities based on the situation you are in. Thus, the international community has called on the private sector to participate actively in achieving the objectives.
Gonvarri believe that in order to be successful in the long term, companies must ensure that they grow and develop in a more sustainable environment, offering value beyond economic benefits, sharing values, minimizing risks, being more efficient and contributing to local development.
For this reason, we included more detailed information about our performance in these objectives that we most actively support, such as:
SDG 3: Good Health and Well-Being. By 2020, halve the number of global deaths and injuries from road traffic accidents (goal 3.6).
SDG 11: Sustainable Cities and Communities. By 2030, provide access to safe, affordable, accessible and sustainable transport systems for all, improving road safety, notably by expanding public transport, with special attention to the needs of those in vulnerable situations, women, children, persons with disabilities and older persons. (goal 11.2).
SDG 17: Partnership for the goals.
United Nations will celebrate between May 6 and 12 the United Nations Global Road Safety Week. This year's theme is "Leadership for Road Safety", aiming to provide an opportunity for civil society to generate demands for strong leadership for road safety, especially around concrete evidence-based interventions which save lives. Emotional Driving will be supporting this initiative actively.