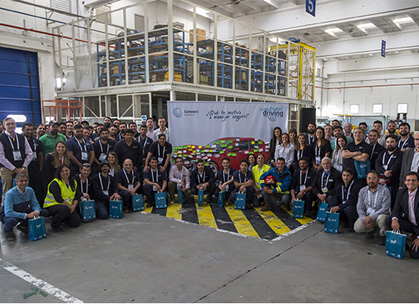 September 26, 2019
Successful Emotional Driving Roadshow on the 10th anniversary of Gonvarri Argentina
---
On September 17, Gonvarri Argentina celebrated its 10th anniversary. Gonvarri Argentina employees and some guests as well as other personalities, numbered up to 80 attendees celebrated the anniversary taking part in a road safety roadshow by Emotional Driving, reinforcing the commitment of the company to employees' health & safety, on this occasion focusing on road safety.
The meeting presented two conferences, the first one by César Rivas, professional fireman who explained his daily activity related to road incidents, whilst the second one, by Julio Peduzi, road instructor, interacted with the audience to raise awareness on the importance of driving safe and responsibly.
The roadshow came to an end with an emotional dynamic in which all attendees wrote positive message answering the following question: "What does motivate you to drive safe?". These messages covered a wrecked car thus transmitting that positive emotions can avoid reckless behaviors at the wheel that end in road incidents.
All attendees received an Emotional Driving kit that included the recent "Emotional Driving 2019: Argentinians at the wheel, distractions and usage of the cellphone" study, and various materials of the road safety program.