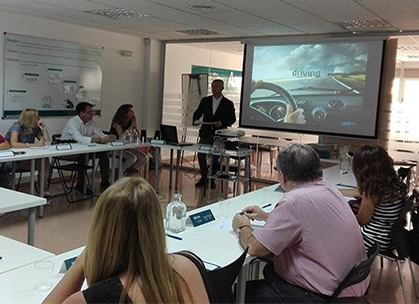 September 7, 2018
Gonvarri Valencia presents Emotional Driving at the Valencian Automotive Cluster
---
In July, Juan Francisco Chicote, manager at Gonvarri Valencia, presented Emotional Driving as a Case of Success in the field of Social Corporate Responsibility at the Valencian Automotive Cluster (AVIA).
Thus, Juan Francisco Chicote described the program, highlighting Gonvarri's commitment to its employees' and the society's health and safety and emphasizing its contribution to the objective of minimizing the accidents and injuries due to traffic accidents.
The goal of this workshop was to provide a global vision and a practical perspective focused in the automotive sector and emphasize in the importance of SCR.
AVIA is a reference on the automotive sector in the Comunitat Valenciana.