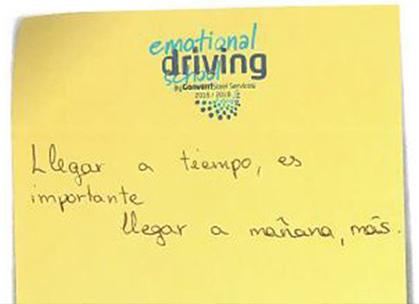 July 20, 2018
End of the second edition of Emotional Driving School (EDSchool)
---
The second edition of the EDSchool program comes to an end. EDSchool is a program developed by Emotional Driving in collaboration with AESLEME by which both partners bring road safety to the schools of Madrid to raise awareness amongst youngster.
Since this program was born back in March 2017, members of AESLEME and Emotional Driving have talked to over 2,000 youngsters about road safety, responsibility and consciousness at the wheel from a positive and motivational perspective.
This initiative also includes a contest aiming to bring out the best of all children by encouraging them to write a message directed to their parents in which a reasons are given to make them drive with responsibility and caution. Soon will be announced the winner of the EDSChool contest.
EDSchool will be back in September, at the time school classes are resumed, with the objective of transmitting positive and motivational road safety concepts to the drivers of the near future.