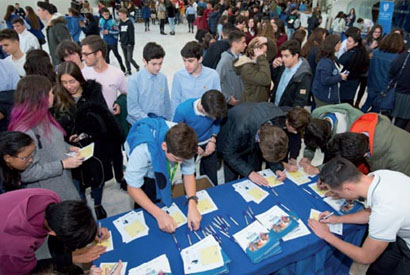 May 8, 2020
Gonvarri and Emotional Driving committed to education
---
Last week, between April 27 and May 3, we celebrated the World Week for Education, aiming to work to promote the right to education.
Gonvarri, in its social action programs, strives to contribute to the full cultural, social, and educational integration of all, thereby promoting a progressive and equal society. As a result of this commitment, through Emotional Driving, develops a number of actions to educate the youth and the most vulnerable collectives in road safety and values.
Since 2017 and with the support of AESLEME, Emotional Driving aims to sensitize the youth in road safety and, in addition, to make the best ambassadors out of them to motivate their parents to drive safe. In less than two years of this project, Emotional Driving has reaches over 18,000 kids and youngsters. In addition to this, Fundación Real Madrid and Emotional Driving develop the so-called "Road safety, a great value" program aimed at youngsters with different capacities. Around 1,000 youngsters have benefited from this program. You can read more about this in the chapter "Motivated drivers" of the book "A history of commitment to society".

In parallel, Emotional Driving takes part with Movistar in the WRM Congresses touching, raising the awareness and educating the drivers of tomorrow so they may start their exciting journey behind the wheel responsibly and safely. Over 35,000 adolescents between the ages of 16 and 18 have witnessed Emotional Driving's message for three years. You can read more about this in the chapter "Future drivers".
Gonvarri and Emotional Driving boost progress and social equality through education.