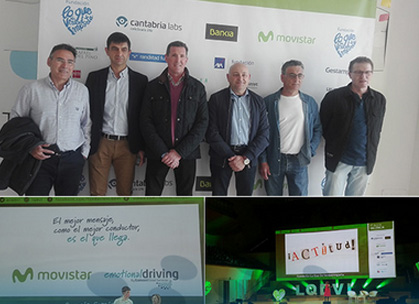 April 27, 2018
Valencia hosts the second What Really Matters Congress of 2018
---
The second What Really Matters Congress of the year took place on Thursday 19 at the Palau de la Música de València before 1,400 spectators.
The attendants enjoyed enjoyed with three distinguished speakers: Lary León, she was born with no arms and one leg, but this adversity never prevented her from reaching her dreams; Alfonso de Luján Said, social entrepreneur and co-founder of Parafina Co., a startup founded in 2014 engaged in the production of sustainable spectacles; and Lucía Lantero, aid worker in Haiti and founder of an NGO that helps children from such country.
As performed in Coruña, Emotional Driving and Movistar maintain their commitment to road safety. Guzmán Fernández, actor and humorist, appeared on the stage emphasizing on the importance of not being distracted by mobile devices while driving. Lalo concluded saying that "the best message, as the best driver, is the one that arrives".
During the year, WRM will also visit Bilbao, Málaga, Sevilla, Oviedo, Madrid and Palma de Mallorca.
WRM is a foundation that seeks to promote the development and the diffusion of universal human, ethical and moral values to the public essentially through the development of cultural activities. Its main activities include national and international congresses, national and international volunteering, talks for companies or publication of books, among others.