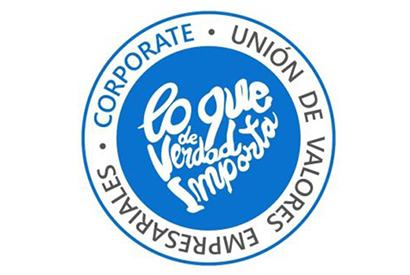 December 20, 2021
WRM Foundation recognizes Gonvarri for its commitment to universal values
---
Gonvarri Industries has been recognized with the "UVE Certification" (Union of Business Values), awarded by the What Really Matters Foundation, for its commitment to sustainability and the transmission of universal values. The values event and awards ceremony took place yesterday at the Telefónica Auditorium in front of nearly fifty attendees from various organizations and guests.
The day, presented by Ángel Expósito, COPE radio journalist, began with the conference "From compliance to commitment" on personal and business values, by José Pomares, followed by the printing project of prosthetic arms through additive manufacturing "Help me 3D" by Guillermo Martínez.
Juan Llovet, Director of Communication and Sustainability, spoke about Gonvarri's commitment to sustainability and the development of the Emotional Driving program which, together with Movistar, has been raising awareness of road safety among nearly 50,000 young Spanish university students for five years.
The event was attended by other companies awarded for their commitment to values, including Telefónica, Deutsche Bank, Cantabria Labs and the AXA Foundation.