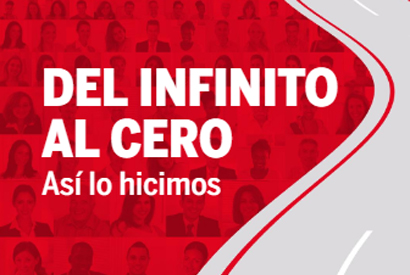 June 21, 2021
Emotional Driving agent involved in the positive evolution of Spanish road safety
---
Mapfre Foundation has published "Del infinito al cero. Así lo hicimos" (From infinity to zero. That is how we did it) book, that includes in its more than 500 pages, 40 contributions from agents involved in the evolution of Spanish road safety, including Emotional Driving.
The presentation of the book took place last Wednesday, June 16, and was attended by prominent personalities such as the Minister of Internal Affairs, Fernando Grande-Marlaska; the General Director of Traffic, Pere Navarro; the Executive Director of Prevention and Road Safety at Fundación Mapfre; Jesús Monclús.
This book gathers testimonies on how Spain has managed to improve its considerably safety levels in the last 30 years, with the ultimate goal of capturing the experience and the collective intelligence and projecting them into the future, towards the Goal of Zero serious or fatal victims as a result of mobility.
Emotional Driving shares its point of view on the positive trend of road safety in Spain and the vision and commitment of Gonvarri Industries as an agent involved in the road sector.
You can read Emotional Driving's testimonial and download the book on the Emotional Driving website.