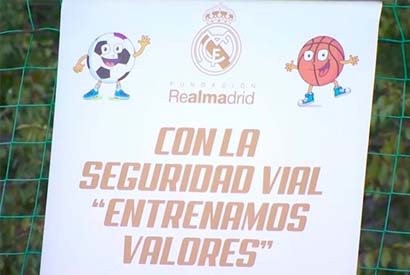 November 26, 2021
New session of the road safety education program by Fundación Real Madrid and Emotional Driving
---
The road safety education program promoted by the Real Madrid Foundation and Emotional Driving has held a new inclusive soccer session at the "Luis Aragonés" facilities. This session is part of the fourth edition of the project: "Road safety, a great value".
This project aims to promote education in values such as "Autonomy" and encourage the social integration of more than 300 people with intellectual and physical disabilities through the values inherent in sport.
As outstanding novelties, this year a younger student body (pre-benjamin 5-7 years old) is being sensitized, reinforcing the early acquisition of contents related to road safety education.
In addition, 5 videos will be developed within the digital training platform of the Sport Values Academy TV in relation to this project and three inclusive sessions will be held with students from Adapted Schools and Socio-sports Schools, seeking to provide a space that promotes the inclusion of students with disabilities through joint work.