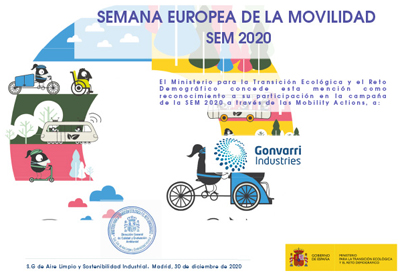 January 8, 2021
The Ministry for Ecological Transition recognizes Emotional Driving's support to the European Mobility Week 2020
---
The General Sub-directorate for Air Quality and Industrial Environment, belonging to the Ministry for Ecological Transition and Demographic Challenges, grants Emotional Driving a diploma in recognition for its commitment to boosting sustainable mobility within the European Mobility Week 2020 framework.
Emotional Driving, as the result of its commitment to road safety and sustainability, joins annually forces with this program aiming to raise awareness among employees and the whole society on relevant values such as respect, safety and responsibility at the wheel.
The European Mobility Week campaign provides the perfect opportunity to present sustainable mobility alternatives to local residents and to explain the challenges that cities and towns are facing. By taking part, towns and cities can showcase the benefits of cleaner transport choices and make progress towards better mobility in Europe.
Local authorities are strongly encouraged to use the week to test new transport measures and get feedback from the public. It is also an excellent opportunity for local stakeholders to get together and discuss the different aspects of mobility and air quality, find innovative solutions to reduce car-use and transport emissions, and test new technologies and planning measures.